CASE HISTORY SPOTLIGHT: Case History #716: VpCI® for Robotic Packaging of Brake Rotors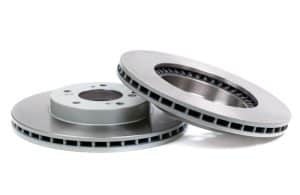 About 15 years ago, a manufacturer switched from using a liquid rust preventative on brake rotors to sandwiching layers of rotors between precut pieces of CorShield® VpCI®-146 Paper for corrosion protection in-process (WIP cycle) and during shipment. The manufacturer took this to the next level in 2020 when they started using robotics to package rotors for shipment. At this point, they began ordering CorShield® VpCI®-146 Paper rolls and using a machine to unroll and cut the paper. A robot picks up the pieces and alternately layers them and the rotors on the pallets. When the pallet is full, it is automatically wrapped in Cor-Pak® VpCI® Stretch Film (which replaced a competitor's bags) and shipped out. The CorShield® VpCI®– 146 Paper has been a satisfactory method of residue-free corrosion protection for many years, and both it and CorPak® VpCI® Stretch Film have been easy to integrate into the new robotic packaging process.
Read the full case history here.
Keywords: VpCI paper, VCI paper, Cortec, brake rotors, robotic packaging, corrosion protection, rust preventatives, automatic
packaging, residue free corrosion protection, WIP cycle